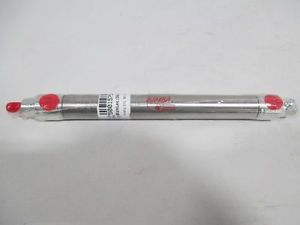 NEW BIMBA SR-045-DP DOUBLE ACTING 5IN STROKE 3/4IN BORE AIR CYLINDER D210743
Product Specifications Brand: Bimba Condition: New with Factory Packaging Model: SR-045-DP Type: Double Acting Stroke Size: 5 IN Bore Size: 3/4 IN Weight: 0.35 lbs Dimensions: 10 x 1 x 1 in SKU: D210743 (KFP) Category: Pneumatics · Pneumatic Cylinders Additional Notes: AIR
Product Photos
$38
USD
Shipping
We always offer combined shipping discounts for multiple items. Final combined shipping rates will depend on item weight and dimensions.


We can send a combined invoice for items purchased within (1) week. If we cannot send a combined invoice, we will still honour our combined shipping discount. These discounts will be reflected on your additional invoice.


We ship items within 1 Business Day of receiving cleared payments.


We can ship through express or overnight UPS service at buyer's expense. Our daily shipping cut-off is 3:00PM Eastern Time.


We only offer Collect Shipping via UPS.


If the item is to be shipped via Freight, please contact us for a shipping quote. You may also choose to have your shipment picked up by your carrier. We will palletize, strap and shrink-wrap your shipment. We offer a 7 day courtesy holding period for our clients, but shipments are subject to storage fees after 7 days.


INTERNATIONAL BUYERS: Import duties, taxes, and charges are not included in the item price or shipping cost. These charges are the buyer's responsibility. Please check with your country's customs office to determine what these additional costs will be prior to bidding or buying.
For shipping inquiries, please contact customer support at: 1.800.583.9813
Terms of Sale
Bid with confidence as we put customer satisfaction as our #1 priority. We pride ourselves on our ability to resolve issues and offer an amazing buying experience to all our customers.


All our items are guaranteed to be as pictured in the listing, and in working condition, unless specified otherwise. Our titles and description may contain inaccurate information, so please refer to pictures to determine condition and specifications of an item.


NRI is not responsible for technical specifications or fitment/application of a part. Please check with the manufacturer if you need technical information about a part. Please ask all necessary questions prior to purchase.


If you receive an item that is dead on arrival, we will refund 100% of your purchase price including shipping costs for standard ground parcel shipment. We must receive the item back for inspection prior to a refund being issued. For cancelled orders, a 35% Service Fee will apply.


If you have an issue or a concern with an item, please contact our Client Relations Department (1-800-583-9813 Ext. 226) and we will do our best to ensure you remain a satisfied customer.
About NRI Industrial
Welcome to NRI

We strive to offer the industry an economical solution for industrial parts and equipment. We are able to offer unbeatable value on quality products as we are the direct source.

Why go to a distributor when you can get the same parts fast for a fraction of the cost? We have years of colective and comprehensive knowledge and experience in industrial materials management. This means that we are able to provide the most value and innovation per your dollar spent. We ensure that your satisfication is guaranteed, always.

Happy Shopping!
Jamil,
Director of Sales
NRI Industrial

---
公司开发票信息
开票户头:烟台维茨德机电设备有限公司
开 户 行:中国工商银行烟台幸福支行
账 号:1606022509024562571 行号:102456000500 税号:370602692004992
地址:烟台西南河路71-608 电话:0535-6849126
公司外汇帐户信息
Yantai Weetsd Mechanical Engineering Co.,LTD
Swift code BKCHCNBJ51A
Bank name Bank of China,YantaiSouth Street Branch
Account No 210419151590 非监管 211719153271监管(USD)
Yantai Weetsd Mechanical Engineering Co.,LTD
Swift code BKCHCNBJ51A
Bank name Bank of China,YantaiSouth Street Branch
Account No 220819151602 非监管 219519153156监管(EUR)


烟台维茨德机械工程有限公司,主要从事进口泵产品、进口阀产品、进口特殊电子产品为贸易技术服务的专业性公司。2005年被Ebara(中国)机械公司授权的北方技术、贸易服务公司。2007年被Pentair亚太部授权为山东区事务部,从事Pentair的通用进口原装泵、水处理设备的销售、技术服务工作。公司通过市场考察,从国外市场寻找了有一定技术的流体设备;如意大利Varisco的自吸离心泵、美国TACO通用泵及深水泵等优秀产品。
公司以水、能源、环境、技术、可持续发展五大运营模块为核心,努力为国内提供最优秀、技术最一流的流体、可编程升级电子产品服务。
烟台维茨德机械工程有限公司前身为烟台海达电子有限公司。海达公司主要从事电子产品设计、控制柜组装,是具有一定实力的一般纳税企业。因为公司从事进口产品运营的需要,公司股东建立了维茨德机械工程有限公司。
维茨德阐述
维茨德(WEETSD)代表了水、环境、能源、技术、可持续发展五个运营模块的核心内容,未来社会是要求环境与可持续发展结合的绿色发展的必须模式。我们正是秉承这个理念进行可靠、扎实的公司运营。
我们座落在美丽的海滨城市-烟台。在市中心、市开发区、机场附近设立了三点联络式办公场所。并有展示厅1个,合作组装车间,备件库一套。硬件是发展及为客户更好的服务的保证。
公司从成立以来,一直致力于原装进口产品的国内贸易及服务工作。期间代理合作了一些非常优秀的国外品牌产品。2005年,维茨德被中国荏原(Ebara)机械授权为中国北方Ebara通用泵、空调产品技术、贸易服务运营商。2007年,公司被美国Pentair亚太总部授权为山东地区泵、水处理系统营业事务部。2008年与意大利Varisco公司签单合作,从事自吸式离心泵、齿轮泵、螺杆泵的销售及技术服务工作。公司直接与日本本国制造商合作,在中国市场运营TOZEN产品、矽门阀组产品、与德国Seepex合作,从事螺杆泵中国市场的运做。与美国TACO合作,从事深水井泵技术、销售、安装服务。HAWE液压产品国内销售商。
公司在注重大宗产品运营的同时,还完善了其电子配件、机械密封等服务产品的运营模式。与全球第二大密封制造商AESSEAL合作,能做大进口设备密封常规48小时交货并应用,非常规密封7天交货并应用。
我们可以为您专业提供电子产品升级服务(如西门子模块产品升级)、提供空调、HVAC、供水等系统的PLC设计服务。
在广大国内客户的支持和信任下,我们将为您提供更高技术、更强专业、更完善的服务。